Artist 艺术家
Art is a better communicator in public space
̌
艺术是公共空间最好的交流方式
Dieter Detzner was born 1970 in Aalen. He studied at the Hochschule der Künste (academy of arts) Berlin. His work was shown in public museums among others at Today art museum Beijing, ZKM Karlsruhe, Kunstverein Bielefeld. He also showed in numerous galleries as for example Neu Berlin, Nourbakhsch Berlin, Truelzsch Berlin, Max Hetzler Berlin, Gourvennec Marseille, Corty Paris and Madder 139 London. Dieter lives and works in Berlin.
Founded in 2005 by Paris-based couple Sylvain and Dominique Lévy, the DSL Collection is one of the rare Chinese contemporary art collections in France.
Feng Chen, was born in 1986 in Wuhan .Graduated from the Department of New Media Art of the China Academy of Art in 2009 and joined a two-year program at the Rijksakademie van beeldende kunsten in the Netherlands as artist-in-residence from 2014 to 2015.Now work in Hangzhou.
>
1986年出生于武汉,2009年毕业于中国美术学院新媒体专业,2014-2015年参与荷兰Rijksakademie van beeldende kunsten项目, 现在生活工作在杭州。
Thomas Eller is an artist who thought that anything is possible. Unfortunately he was right and became a magazine editor, an art market website manager, a museum director, founder of a gallery weekend amongst other things.
His work is about the de-construction of three things: the camera, central perspective and big ego. In order to achieve this he ironically uses photography, sculpture and himself. Some people have called him "alter-ego".
Guo Guozhu, born in 1982, Yongchun, Fujian, graduated from the Department of Mechanics of Nanchang Hangkong University. He now lives and works in Xiamen.
Since 2002, he started to use his work talking about "space" and social relationships. During his process, space is Guo's most important medium and object.When he tries to describe or use a space, questioning about it, always begins from an individual spirit and ends up with the social phenomenon.
His work was exhibited in many places and musuems, such as: Pingyao International Photography Festival 2009, Pingyao, China; China-Holland Contemporary Arts Exhibition 2010, Xiamen, China; The Second & The Third Beijing Photo Biennial 2015, CAFA Museum, Beijing, China; Jimei × Arles International Photo Festival 2015, Xiamen, China; Photography New Academy Exhibition of China Academy of Art 2015, CAA Art Museums, Hangzhou, China, and so on. He was selected as one of the TOP20 China Cutting-edge Contemporary Photographer, 2015. He was listed in The Three Shadows Photo Award & New Talent Award . He was nominated in 7th Prix Pictet photography prize & 2016 Shpilman International Prize for Excellence in Photography.
>
郭国柱,1982年生于中国福建永春,2005年毕业于南昌航空大学机械系,现在生活工作于厦门。
自2002年起,他便开始围绕"空间"和社会关系展开叙事。在这条线索中,空间是郭国柱创作实践的主要载体和对象。他在使用和描绘空间时,是以个体精神为出发点,最终回到社会的方法来展开提问的。
他的作品先后参与2009平遥国际摄影节、2010中国-荷兰当代综合艺术展、第二和第三届北京国际摄影双年展,集美×阿尔勒国际摄影季,2015中国美术学院摄影"新学院活动"等;2015年入选中国当代摄影新锐TOP20,2016年入选三影堂摄影奖、新锐摄影奖,以及得到第七届Prix Pictet摄影奖和2016 Shpilman 国际摄影奖提名。
1986 Born at Kuandian County, Liaoning Province, China. 2008 Graduated from Oil Painting Department, Shenyang Normal University. Currently lives and works in Berlin and Beijing
>
1986 年生于辽宁省宽甸县,2008 年毕业于沈阳师范大学油画系,现工作生活于北京和柏林。
Hu Weiyi is a young new media artist currently living and working in Shanghai. After graduating from the China Academy of Art in 2013, he continued his studies as a Master's student in at the School of Intermedia Art under the tutelage of Zhang Peili. Perhaps due to his youth, his work is permeated with explorations of the unknown, grappling with life's sorrows, and curiosity about natural and bodily injury, such as the Low Landscape series or 14mins. He recently transitioned from a stage of grammatical imitation to more of a self-reflective grammatical mould. As a rising star of new media art, he has gradually evolved into a more introspective mode of working. Hu Weiyi has managed to master an ever-changing motif, that is, he has gone from internal and intimate contemplation to a more direct expression of his understanding of this world. Hu Weiyi explores the relationship between randomness and nature, reverses it via subjective expression while presupposing the audience's trajectory. Like many seasoned artists, he has a mastery of space, the conceptual, and the external extension of information. His recent exhibitions include: "Flirt", a solo exhibition at M50 Art Space in Shanghai in 2014, Shanghai 21st Century Minsheng Art Museum's inaugural exhibition "COSMOS" also in 2014, The 2nd "CAFAM Future" Exhibition and the "No Express" exhibition at the UCCA Pavilion in 2015.
>
胡为一,是一位现工作和生活于上海的年轻新媒体艺术家,在2013年毕业于中国美术学院后,他继续在中国美术学院跨媒体艺术学院攻读导师张培力的硕士研究生。可能因为年轻,他的工作充满对未知的探索,对生命中那些忧伤的把握,对自然和身体伤害的好奇,既表现在作品中,如他的《低级景观》系列或《14mins》。他正在从一种语法的模仿阶段,走向自我语法的塑造,从一个新媒体艺术新星,逐渐转型为更加自我内省的工作状态,胡为一很好的把握了这一转变的主体,也就是从内在的思考和内心,更直接的表达出对这个世界的理解。胡为一将随机性和自然生成的关系,扭转为主观表达,并预设了观众的轨迹。如同很多成熟艺术家,很好的把握了空间、概念和对外延伸的信息。他近期的展览包括2014年于上海M50 Art Space举办个展"Flirt",同年参加上海二十一世纪民生美术馆开馆展"多重宇宙",2015年参加第二届CAFAM未来展和同年在尤伦斯当代艺术中心悦廊举办个展"两点之间没有直线"。
Uta Kopp & Achim Mohné 乌塔•卡博 & 阿齐姆•莫奈
Uta Kopp studied communication design at the University of Applied Sciences in Mainz as media design at the Academy for Media Arts in Cologne, Germany where she lives and works since then. She works as a freelance graphic designer with a focus on strategic design consulting, conception of systemdesigns and the designing and production of print as digital media.
She was awarded with several international design prices, amongst others with prices of Art Directors Club, NY; red dot design award, Essen; New Media Invision Award, San Francisco; EVA Innovations Award, Berlin; Eyes & Ears of Europe award, Cologne; Promax-BDA award, Santa Monica or Designpreis Brandenburg.
She has been teaching at the Bergische Universität in Wuppertal, Germany, for the Faculty of Art and Design (2013-2017). Currently (since 2017), she teaches as a Visiting Professor "Typography and Layout" at the Art Academy in Münster
www.utakopp.de
>
Achim Mohné studied photography at the University of Essen as at the Academy for Media Arts in Cologne, Germany where he lives and works since then. Since 1998, he works as a freelancing media artist. He has developed and exhibited a wide ranging body of work and initiated many projects as actions centering on video installation, public intervention, computer-based communication, surveillance technology and sound. He was granted with stipends from amongst others Villa Aurora, Kunststiftung NRW or Center for Land Use Interpretation, Los Angeles.
He taught amongst others at the Art Academy in Münster, the Folkwang University in Essen, Germany, or as a Visiting Professor at Indiana University in Bloomington, USA. Since 2013, he teaches photography and new media at the Swiss Federal Institute of Technology in Zurich (ETHZ).
Lulu Li is an active practitioner in fields of design, art, interaction design, research, curatorial practice, and entrepreneurship. Both her personal works and studio works has won numerous awards from TOCA ME, GAM awards, Red Dot, IF award, to the Best app 2014 and 2015 in app store. Her personal renowned design work series "the lightning babe" has won her reputation in Chinese design scene 2007, while her later artwork "Where r u..." is installed in K11 Shanghai building facade as permanent collection. 2013 she run Beijing based social innovation platform - Interactive Beijing. In 2013 program "Our A!r" aimed to fight for air pollution crisis. The pilot project "Eco Air Bubble" upgraded public gym machines into human-powered fresh air sanctuary. It has won her Germany's Green Product Award with innovative thinking in 2015. 2016 " City as Museum" VR project exhibited at Venice Architecture Biennale. 2016, she participated both curation and research of the inaugural "Beijing Media Art biennale - Ethic of Technology".2017 she conducted the over all new media narrative and content for one of the first mix media immersive play "LOST IN PLAY" at CHAO Hotel in Beijing by makeup brand Marie Dalgar.
>
她活跃于艺术,设计,研究与策展等领域,同时从业文化初创。其个人和团体作品获奖众多:慕尼黑TOCA ME,GAM毕业奖,红点,德国IF奖,亚洲最具影响力奖,2014和2015最佳app等。从2007年电光娃娃设计创作系列获设计媒体关注,2013年灯光装置艺术作品"where r u..."被K11上海作为永久公共装置收藏。2013年作为社会创新平台-交互北京的联合创始人她启动了"我们的空气"项目。其领航员项目"智能生态氧泡" - 一个通过提升改造公共健身设施,并利用人力发电的方式制造新鲜空气的避难所装置。2015年,这个项目一出众的创新想法而获得德国绿色产品大奖。其"城市博物馆"VR 项目曾在2016威尼斯建筑双年展展出。2016年其参与了第一届"北京媒体艺术双年展 -技术伦理 "的策展和研究工作。2017 她在Chao酒店为玛丽黛佳的越域艺术展规划并执行了沉浸式戏剧"戏•游"混合媒体叙事及内容。
Liao Wenfeng's practice is not tied to any one particular form or medium. Aside from continuing to work in moving image, Liao Wenfeng has also produced large numbers of sketches and paintings. He excels in using eggs, pencils, teeth and other small objects to create humorous situations, taking optical illusion, euphemism, art historical allusion, political symbolism and admixing these with a variety of other symbols; using simple lines and vivid color to allow everyday objects to acquire novel significance. Moving in conjunction with his painting practice is Liao Wenfeng's work with GIF images. These almost cartoonish animations accentuate the implied utterances of the still images via their cycling, rhythmic motions. A shaking axe creating an illusion of a waving flag, a continuously oscillating chair intermingling with a galloping horse, the wings of a bird in flight moving with a scissor… At the same time they are harmonious, ingenious, they remind the viewer of certain paradoxical circumstances.
>
廖文峰的艺术创作不拘泥于单一的形式或媒介,除了持续的影像创作,廖文峰有大量的手稿和绘画作品。他擅用鸡蛋、铅笔、牙齿等细小的事物营造幽默的场景,将视错觉、双关语、艺术史指涉、政治意味的象征符号杂糅在一起,让简练的线条和明快的色彩为日常物件注入新的含义。与绘画实践并行的是廖文峰的GIF创作,这些近乎卡通质感的动画在循环的律动中增强了静态图像的视觉语言,艺术家作品中的斧子抖动出旗帜飘扬的样子,不停旋转的座椅与奔马重叠,飞鸟翅膀的扑闪与剪刀同步……它们都在轻巧诙谐的同时提醒观众某些悖论式的处境。
Liu Guangyun,1962 born in Jinan, China,1987 Graduated from Central Academy of Fine Arts & Design, Beijing,now living and working in Shanghai and Mainz, Germany.
Exhibited in "iJacking-Augmented Reality", Hannover, Germany ( 2018 ), 5th Mediation Biennale Poznan, Poland (2016) , "error: X" - 'Ostrale' O16, Dresden, Germany (2016), 13th Jogja Biennale "Hotel de Inmigrante" Project, Indonesia (2015), "Cosmos", Shanghai M21 Art Museum (2014), Shenzhen and Hong Kong Bi - City Biennale (2013),"Transmedia Art", Palais de Tokyo, Paris, France (2013), "Videonale", Museum Centro de Arte Reina Sofia, Madrid, Spain and "11 Videonale" Bonn Art Museum, Germany (2007),9th Havanna Biennale, Cuba (2006),Grosse Kunstausstellung NRW Duesseldorf, Germany (2002), etc.
>
刘广云,1962年生于济南,1987年毕业于北京中央工艺美术学院,现工作生活于上海和德国美茵兹 。曾展出于德国汉诺威城市艺术项目(2018),波兰波兹南双年展(2016),德国德累斯顿国际当代艺术展(2016),印尼日惹双年展(2015),上海二十一世纪民生美术馆(2014),深圳香港城市建筑双年展(2013),第11届录像双年展(2007),西班牙马德里索非亚王后美术馆(2007),第9届哈瓦那双年展(2006),德国杜塞尔多夫艺术大展(2002)等。
Teddy Lo was born and raised in Hong Kong with his father's family background in technological manufacturing and mother was an artist with family background from the deep mountains of Taiwan, making a living as farmers and hunters. While growing up, Lo was captivated by his perceived difference of basic human needs in technology spending his time divided in big metropolitan cities and rural areas. Having been introduced to the works of Claude Monet at a young age, he began to develop a fondness for fine arts. Later, he had the opportunity to pursue his studies in US, where he developed an interest on conceptual and artistic depth of its advertising industry and contemporary arts. Eventually enrolled in Art Center College of Design in California to complete a BFA degree in art direction. It was during a fine art class and a visit to a lighting factory that inspired the artist to explore LEDs as an artistic medium. After graduation, Lo moved to NYC to work in advertising and continued his artistic journey. He had his first art exhibition at the Arturo Dimodica Gallery, NYC and since then, began working on lighting design projects.
In 2007, Lo moved back to Hong Kong and founded a LED experience design company LEDARTIST. He then earned his Master's degree on Lighting at Queensland University of Technology which led to a career in light art and design. He has since participated in various international art exhibitions and large-scale lighting projects. Lo held exhibitions in prestigious locations around the world, including Luminale in Frankfurt, Asia Society in Hong Kong, Museum of Art and Design in NYC, Shanghai Museum of Contemporary Arts, Art Centre BUDA Kortrijk in Belgium, Hong Kong Museum of Art, Esplanade in Singapore, 798 Art District in Beijing and Burning Man Festival in Nevada, among others. In addition with commission work for the tallest building in China - The Shanghai Tower and created the digital media infrastructure designs for the new World Trade Center in NYC.
罗扬⽂出⽣并长大在⾹港。获美国加州艺术中⼼设计学院(ArtCenter College of Design in California)美术设计专业艺术学学⼠学位。
2007年罗扬文回到⾹港。他随后成⽴了LED体验设计公司——LEDARTIST元创光艺。紧接着,他获得了昆⼠兰科技大学(Queensland University of Technology)的照明硕⼠学位。
罗扬文参加了多个国际艺术展和大型灯光艺术项目。他在全球许多著名艺术博览会、美术馆、画廊举办过展览,包括法兰克福的Luminale灯光艺术节、⾹港的亚洲协会、纽约艺术设计博物馆、上海当代艺术博物馆、⽐利时布达艺术中心、香港艺术博物馆、新加波滨海海艺术中心、北京798艺术区和内华达州"火人节"等。除此以外,他受邀为中国最高建筑——上海中⼼大厦创作作品,并为纽约新的世界贸易中心创建了数字化媒体的基础设施。
Iris Long & Cedar Zhou 龙星如与周姜杉
Marnix de Nijs (b. 1970, The Netherlands) graduated as a sculptor in 92 and focused his early career on installation, public space and architecture. Since the mid 90's, he has been researching full body participation in immersive audio visual environments. His works include mainly interactively experienced machines that play with the perception and control of image and sound. The interface between the body and technology forms an important basis for De Nijs's work. Technology must literally merge, become absorbed into the body so that it becomes a co-determiner of perception. And here perception not only refers to how external stimuli are interpreted by the five senses, but also the feelings that come from within the body itself, the information that is derived from one's own muscles and nerves (the technical term being proprioception). Impelled by the idea that technology acts as a driving force behind cultural change and therefore capable of generating new experiences where societal habits and communication are rethought, his work thrives on the creative possibilities offered by new technologies, while critically examining their impact on contemporary society and human perception.
De Nijs' works have been widely exhibited at international art institutes, museums and festivals. He won the Art Future Award (Taipei 2000) and received honourable mentions at the Transmediale award ( Berlin 2000), the Vida 5.0 award (Madrid 2002), and Prix Ars Electronica ( Linz 2013, 2005 & 2001). In 2005, he collected the prestigious Dutch Witteveen & Bos Art and Technology Price 2005, for his entire oeuvre.
De Nijs' works have been widely exhibited at international art institutes, museums and festivals: such as NRW Forum (Düsseldorf 2018, 2017), National Museum (Zurich, 2018), Boijmans Museum (Rotterdam 2017, 2014), Pushkin museum at 57th Biennale (Venice 2017), La Gaite-Lyrique ( Paris 2017), Lille3000 (Lille 2017), Pushkin museum (Moscow 2016), EYE Film Institute (Amsterdam 2016), MU (Eindhoven 2015), MAC Créteil (Paris 2015), National Taiwan Museum of Fine Arts, (Taichung 2014), Cofa UNSW Galleries, Isea (Syndey 2013), National Art Museum of China (2011, 2008 Beijing), CCCS Strozzina (2010 & 2008 Firenze), Museo Reina Sofia (2010 Madrid), ARoS, Aarhus Kunstmuseum (2009 Aarhus), SONAR(2011, 2008 Barcelona), Stedelijk Museum (2008 Amsterdam), MOCA (2007 Taipei), DAF festival (2006 Tokyo), 6th Shanghai Bienale (2006 Shanghai), Itau Cultural (2002 Sao Paulo), Ars Electronica (2005, 2004 & 2001 Linz), DEAF festival (2012, 2007, 2004 & 2000 Rotterdam)
>
marnixdenijs.nl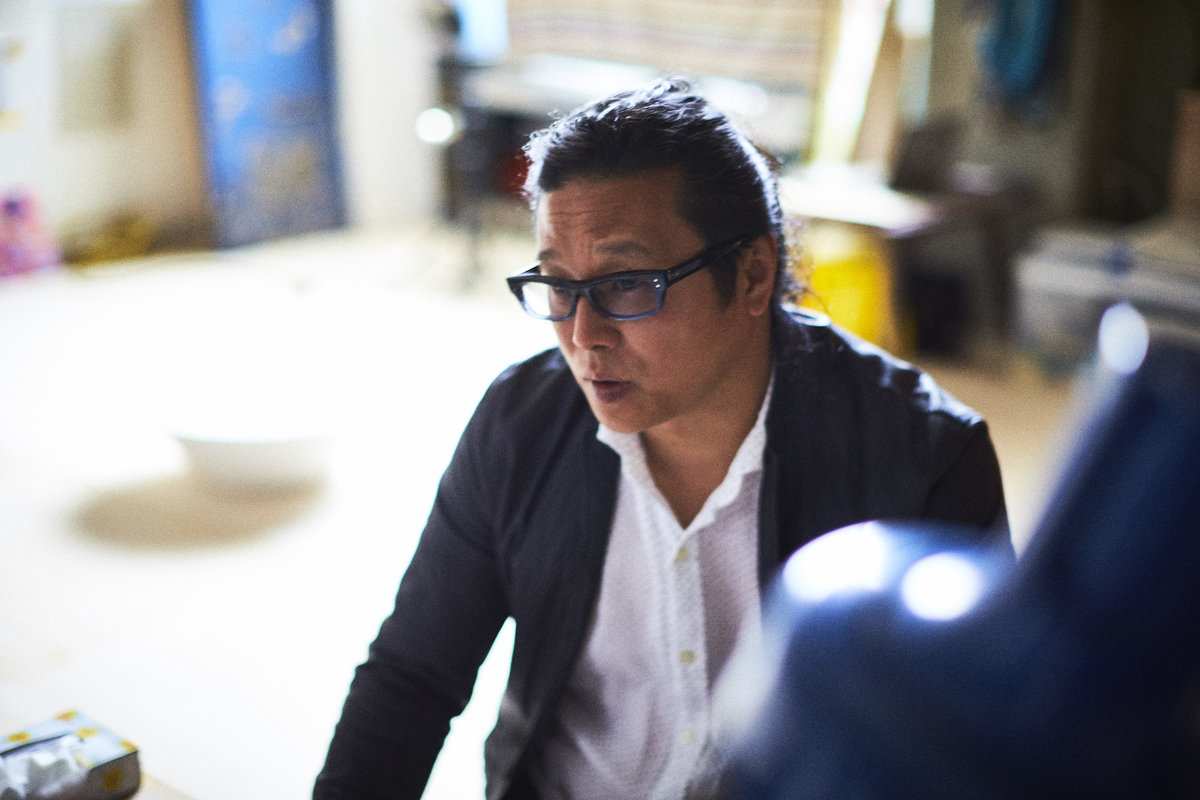 Credit : Pic by paul barbera / where they create
>
The theme of Ohmaki's work has always been "matter and space・existence". Through various techniques, he handles "space" "time" "gravity" "memory", developing such series as Echoes, Liminal Air, Flotage, and installation pieces like Memorial Rebirth. In there, the eyes catch the invisible and the body senses what is not visible, and that is what he seeks to achieve, a new bodily perceptive space.
His dynamic installation pieces stimulate all the bodily senses of the viewer, and by a tour de force seeming effortless, a simple space is converted into the unexpected, the uncommon world.
>
大卷伸嗣作品的主題一直以來皆圍繞於「物與空間・存在」,透過多樣不同的技法,他處理空間、時間、重力與記憶,發展出《迴響-無限》、《臨界之氣-時空》、《漂浮》系列作品與裝置如《記憶再生》。藝術家在作品中所追求的是從身體觀點出發的新空間,讓眼睛捕捉無形之事物,讓身體感知視線之外的存在。他充滿動態的裝置藝術,激發觀眾所有的身體感官,藉由看似雲淡風輕的力量循環,將單純平凡的空間轉換為未知、獨特的世界。
近期的裝置作品中,《House》系列(市原市 Art×Mix, 越後妻有大地藝術季 2015, Art Access Adachi 2016展出)在黑暗中玩味光影之美,讓觀眾在私密的房舍裡,見證時間與記憶的累積。藝術家積極活躍,作品展覽於世界各地的藝廊與美術館。
唐钰涵毕业于中央美术学院雕塑系,目前工作生活于北京、武汉。她乐于尝试不同材料的可塑性,着眼关乎世界的根本性命题并善于以此创造出体现当代社会文化背景及价值观的"风水法器",作品中使用的象征的手法,从物理、社会、文化、物质等方面对"存在"(existence)的要素进行探索和重塑,蕴含着复杂的象征意味。试图探索奠定公共意义基础的复杂动能;作品亦突破其物理维度,进入社会学范畴:将风水能量转化为一场美丽且意蕴深长的体验。
For Timm Ulrichs Language is fundamental; his works are often playing with verbal concepts, tautologies, paradoxes and multiple meanings. He is considered one of the most remarkable conceptual artists in Germany.
Ulrichs has participated in numerous international solo and group exhibitions, among them at Stedelijk Museum Amsterdam, Documenta 6, Kunsthalle Düsseldorf, Centre Pompidou, ZKM Karlsruhe, Museum der Moderne in Salzburg, Staatsgalerie Stuttgart and Kestnergesellschaft Hannover.
From 1969 to 1970, Timm Ulrichs was a visiting professor at Staatliche Hochschule für Bildende Künste, Braunschweig, and from 1972 to 2005 professor for sculpture at Kunstakademie Münster.
As a young artist of media art, WU Juehui, who was born in 1980, focuses on cross-border-amalgamation, concerning interactive art, bio-art, media theater etc. to show the plurality of art creation. WU's saying that "Art as the antimatter of science and technology." shows his perspective upon the relation between art and science. Since 2009, WU has been trying to intrude and reproduce the sense organs via popular technology in the "Organ Project"; While in 2014, WU starts using several media to simulate the deviations during the procedure of creating, resulting in a series of creatures of meaningless, namely the"STAR ZOO". And the "Brain Station" art project based on neuroscience has been in progress.
>
作为中国代表性的新媒体艺术家之一,吴珏辉的创作轨迹呈现出跨界融合的多元面貌,涉及交互、生物、信息科技等范畴,其作品常以装置、影像及剧场等形态呈现。多年来,吴珏辉活跃于国内外新媒体艺术领域,与清华大学神经工程实验室、杭州电子科技大学图形图像研究所、EPFL瑞士联邦理工学院媒体设计实验室、Regenovo 及 neuracle生物科技公司等机构展开跨学科创作。并于2010年创立UFO媒体实验室,通过一系列的艺术项目拓展新媒体艺术的边缘。
近年来,他着力探索艺术与科学、身体与媒体之间的"潜在接口"。自2010年始,吴珏辉发展出《器官计划》,试图将流行科技作为外来基因,侵入与再造肉体感官,并于2013年获得TASML | Carroll Fletcher艺术家Eyebeam驻留奖;他于2013年开展的《星际动物园》系列利用综合媒介的造物过程来构建个人的宇宙观,生成一系列无目的而存在的机械生命。而基于神经科学的《脑电站》艺术项目一直在持续进行中。
吴珏辉曾多次参加国内外代表性的新媒体艺术展览及学术活动,如蛇形美术馆北京展亭、 数码巴比肯(Digital Revolution)、国际新媒体艺术三年展 (2011延展生命 / 2014齐物等观 / 2008合成时代)、纽约EYEBEAM 2014年度展、2009欧罗巴利亚·中国艺术节 (europalia.china)、上海双年展、硅谷ZERO1双年展、瑞士SHIFT电子艺术节、创想计划 (The Creators Project)、上海电子艺术节等。除此以外,吴珏辉曾受邀参加TEDx演讲,于今日美术馆、昊美术馆、K11及 Apple Store 举办个人作品展,并策划了".zip 今日未来馆"、"混合园林"、"时间迷宫"、"引力塔"等一系列跨媒介展览及艺术项目。
Xu Tan was born in Wuhan, Hubei Province in 1957 and currently lives in Guangzhou and Shenzhen. In 1993, he became a member of the "Big Tail Elephant Group" (Da Wei Xiang), an experimental artistic group formed in Guangzhou. His work has been shown around the world, including at the 53rd and 50th Venice Biennials, the 2nd Berlin Biennia, the 2nd Guangzhou Triennial and the 4th Kwangju Biennial, amongst others.
>
徐坦,1957年生于武汉,现生活于广州和深圳。他是实验艺术工作小组"大尾象"成员。时至今日,徐坦还是保持着他"漫游者"的生活方式。他敏感于社会生活和文化的变化,不停地追问当代艺术的边界何在。他的工作方式更像是一个思想者,他的一些作品在产生的当时尚无法定义,而在今天更显其存在的意义。徐坦曾参加第五十三届威尼斯双年展,第五十届威尼斯双年展、第二届柏林双年展、第二届广州三年展、第四届光州双年展等。
Zhan Wang (b. 1962) is a contemporary Chinese artist best known for his series of Artificial Rocksculptures. Melding the traditional Chinese scholar's rocks with the industrial medium of stainless steel, Zhan reexamines the original function of these decorative objects. "Placed in a traditional courtyard, rockery satisfied people's desire to return to nature by offering them stone fragments from nature. But huge changes in the world have made this traditional ideal increasingly out of date," he explained. "The material's glittering surface, ostentatious glamour, and illusory appearance make it an ideal medium to convey new dreams." Born in 1962 in Beijing, China, he studied at the Beijing Industrial Arts College and later the Central Academy of Fine Arts. In the early 1990s, Zhan broke from the Socialist Realist tradition of depicting important political figures, by choosing common people on the sidewalks as his subjects. Over the years that followed, the artist has continued to explore the borders of traditional Chinese aesthetics crossing the threshold into contemporary art. He continues to live and work in Beijing, China. Today, Zhan's work is held in the collection of the Metropolitan Museum of Art in New York.
>
展望(1962,北京)是中国当代艺术家在世界艺坛的的重要代表人物之一。目前生活工作于北京。"假山石"系列是其观念雕塑的代表作。展望的艺术有着以简单材料形态营造复杂问题的特质,他的艺术实验像是一场在趣味、心性和感官世界中,不断寻找平衡的智力游戏,它不断带来惊喜,但却从来不提供清晰的答案,他是少数几位在自己设置的艺术问题中进行独立工作的艺术家之一。
展望在中国美术馆,今日美术馆,798尤伦斯艺术中心,龙美术馆举办过大型个展。曾参加上海,威尼斯,新加坡,夏威夷等国际当代艺术双、三年展。其作品是美国纽约大都会博物馆以及伦敦大英博物馆,旧金山Deyoung美术馆、波士顿美术馆、洛杉矶当代艺术博物馆等首次收藏陈列的中国当代雕塑作品。
Zhang Xiao, b. 1981 in Yantai, Shandong province, China, Zhang Xiao graduated from the Department of Architecture and Design at Yantai University in 2005. He was a photojournalist for Chongqing Morning Post. Zhang won the Robert Gardner Fellow in Photography of Harvard University in 2018. He won the Three Shadows Photography Award in 2010 with They series. He also received the second Hou Dengke Documentary Photography Award in 2009, The Photography Talent Award (France) in 2010 and the Prix HSBC pour la Photographie in 2011 with his Coastline series. Zhang has participated in several solo and group exhibitions, including " The World in 2015 ", ( Ullens Center for Contemporary Art, Beijing, China 2015), " Unfamiliar Familiarities ", ( Fotostiftung Schweiz, Winterthur, Switzerland 2017), " Photoquai 2015 ", ( Quai Branly Museum, Paris, France 2016 ), " Expanded Geographies ", ( Lianzhou International Photo Festival, Guangdong, China 2018 ), " Social Geography: Ten Journeys with a Camera ", (Shanghai Center of Photography , Shanghai, China 2018) , etc. Zhang currently lives and works in Chengdu, Sichuan province, China.
>
1981年出生于山东烟台,2005年毕业于烟台大学建筑设计系,现居成都。在2009年成为摄影艺术家之前,他曾于《重庆晨报》担任新闻摄影师。2018年,张晓获得哈佛大学罗伯特·加纳德摄影基金。张晓的《海岸线》系列曾获得法国汇丰银行摄影奖(2011)、法国才华摄影基金中国区冠军(2010)及候登科摄影奖(2009),《他们》系列则在2010年获得三影堂摄影奖大奖。张晓曾参与UCCA尤伦斯当代艺术中心展览的"2015年作为理由"及包括瑞士摄影基金会的"Unfamiliar Familiarities"和法国巴黎布朗利码头博物馆的"Photoquai 2015",以及中国连州国际摄影节,中国上海摄影艺术中心等在内的多个国内外展览。
Zhang Zengzeng was born in Bozhou, Anhui in 1987. He grew up in Bozhou and currently lives and works in Chongqing.
He graduated from Sichuan Fine Arts Institute with a Master's degree in 2013. His exhibitions include SAYA: Supporting Active Young Artist (Yi Jia Art Gallery, Chengdu, China, 2014), Ivy Plan: Youth Artists Invitation Exhibition in 2014 (Inside-Out Art Museum, Beijing, China, 2014) and Growing: 2014 Sichuan Fine Arts Institute Resident Artists First Exhibition (Chongqing Art Museum, Chongqing, China, 2014).
>
张增增1987年于安徽亳州出生及成长,现于重庆生活及工作,2013年于四川美术学院毕业,获硕士学位。曾参加过的展览有:"菁英国际青年艺术家支持计划"(艺佳画廊,成都,2014)、"常青藤计划2014:首届中国青年艺术家推介展"(中间美术馆,北京,2014)及"后生:四川美院驻留艺术家年度展"(重庆美术馆,重庆,2014)。
Zheng Da is a media artist who focuses on inter-media interactive art. His art works reflected by the exploration and practice at the crossing of reality and virtual world, which includes game art, interactive installation, audio sculpture, theater media, etc. He established the "Low Tech Art Lab" that focuses on contemporary media cultures and interdisciplinary integration, and this lab do a series art experiment of digital virtual environments. Currently he lives and works in Wuhan and Seattle. He is also an associate professor of Academic of Fine Arts in Central China Normal University. And the academic scholar of The University of British Columbia (UBC), Korea 2012 CPI Visiting Artist. "The Unfettered Language of Machines" of light interactive art work won "The 2017 Lumen Prize", London. Art Awards of" 2018 The Third Session: Wang Shikuo Award".
>
郑达, 媒体艺术家,"低科技艺术实验室"创立者。华中师范大学美术学院副教授、数字媒体艺术专业(DMA)主任、英属哥伦比亚大学艺术系访问学者和韩国首尔CPI研究员。艺术工作聚焦于跨媒体互动艺术,其创作轨迹映现在现实与虚拟世界交错点的探索和实践,包括游戏艺术、互动艺术、机械装置、媒体剧场等。创立的"低科技艺术实验室"专注于当下媒体文化和跨学科的融合,基于电子虚拟环境的艺术实验,先后完成"游戏空间—多种物"、"入侵计划"、"后机器计划""后人类的副本"等系列作品。作品展出于:中央美术学院美术馆"未来展", 上海K11美术馆、湖北美术馆、南京艺术学院美术馆等,曾在专业艺术机构、美术馆举办个人媒体艺术作品展。作品获得英国"The 2017 Lumen Prize"互动艺术大奖,"2018第三届王式廓奖"艺术奖得主。
Bignia Wehrli's artistic practice engages with processes of visualization and with ways of capturing fleeting actions. She is interested particularly in devising methods of notation and inventing measuring devices which can be used to record ephemeral occurrences and performative actions, positioning them in new contexts and relationships. Often the work appears to be only the remains of something else, an encrypted trace, a sign or a hint of something real hidden within.
>
宾雅的艺术实践强调对易逝痕迹的视觉转化和捕捉。她发明不同的记号法和仪器,用于纪录转瞬即逝的事件以及表演性的行动,并将它们置入新的语境与关系中。她的作品常常仅作为其事件或物件的余存显现——一个隐藏真实事物的秘密痕迹、符号,或者暗示。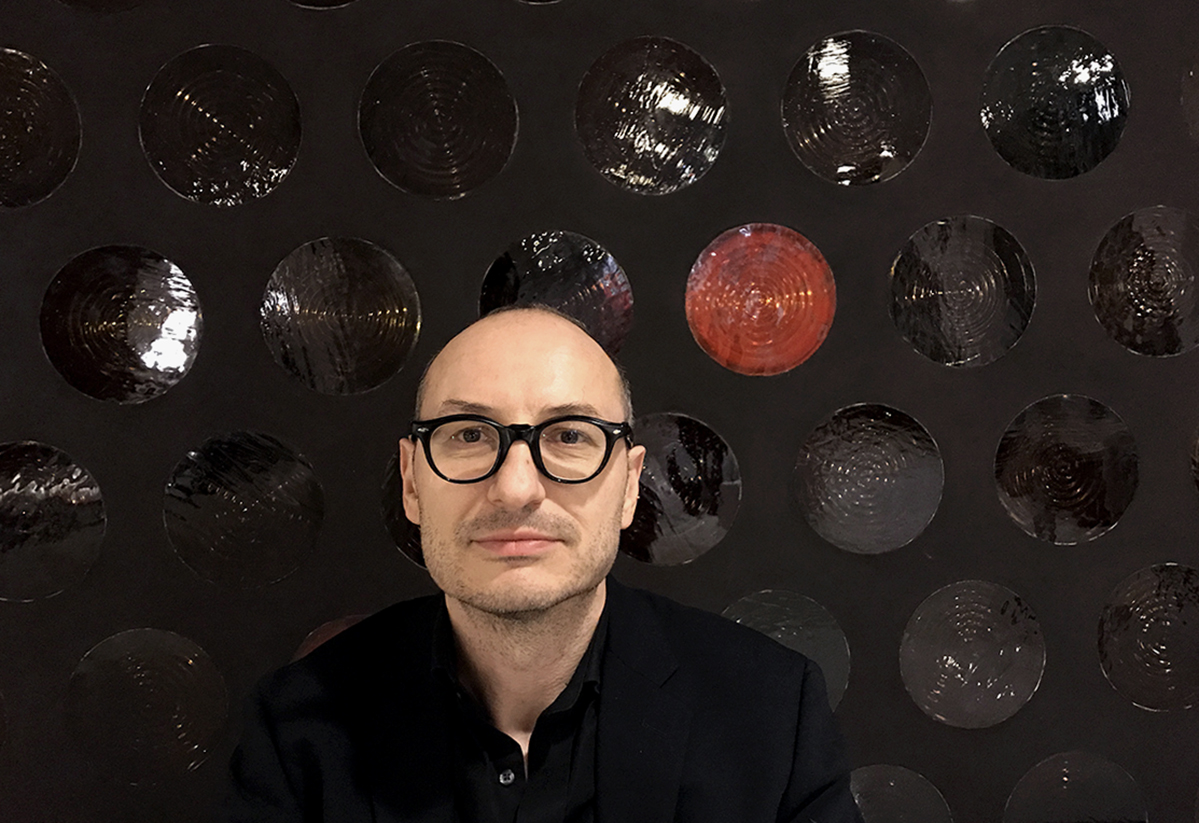 Albert Weis was born in Passau, Germany in 1969. He studied sculpture at the Akademie der Bildenden Kuenste in Munich and graduated as a "Meisterschueler" in 1997. From 2002 to 2003 he was visiting professer for art at the architectural department at universitiy Kaiserslautern. In 2009, Weis was awarded a grant by the Villa Aurora in Los Angeles and in 2010 for the Citè Internationale des Arts in Paris by the city of Berlin. In 2014 he was artist in residenca at IMMA Irish Museum of Modern Art in Dublin, Ireland. He lives and works in Berlin.
Weis' work investigates various aspects of social, historical, utopian, private and public space. The most recent works examine the ideals of modernism and its formal vocabulary.
Weis' installations, sculptural and photographic works have been shown at Center for Curatorial Studies, Bard College, New York, 1999, Haus der Kunst Munich and Kunstmuseum Bonn, 2000, Sprengel Museum Hannover, 2003, Centre d'art Passerelle, Brest, 2008, Kunstmuseen Krefeld/Haus Lange, 2008, Akademie der Kuenste, Berlin, 2010 , Daimler Contemporary, Haus Huth, Berlin, 2010, Centre d'art Nei Liicht, Ville de Dudelange, Luxembourg, 2010, Museum für Konkrete Kunst, Ingolstadt, 2011, Sociedad Anonima, Madrid, 2015, Kunstmuseum Goch, 2015, Kunstverein Bochum, 2015, Rathausgalerie München, 2016, Kunsthaus Dahlem, Berlin, 2018, Zentrum für Aktuelle Kunst, Zitadelle Spandau, Berlin, 2018, Brandenburgisches Landesmuseum für Moderne Kunst, Dieselkraftwerk Cottbus, 2019.